September 24th, 2020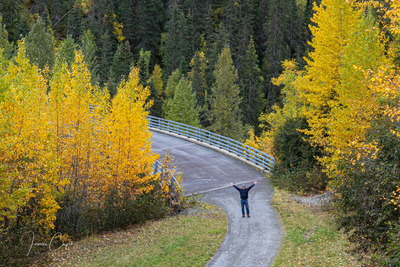 My good friend Kurt Tannert and I just returned from a trip to Alaska, where we visited with my brother and his family in Anchorage, and with friends in Homer at the south end of the Kenai Peninsula. The drive through the Chugach Mountains was spectacular, with the golden autumn colors bursting on the trees.

For most of the way down to Homer, overcast conditions kept the sun from popping through to highlight the colors with that brilliant reflective sparkle -- that would have been nice, but I didn't mind. Wet leaves and even lighting produces a rich saturation in the colors of the leaves, without the bright spectral highlights that can blow out detail. A little balancing of the light and contrast in Photoshop, and the scene renders the glory of autumn beautifully.

While I didn't need it on this image, very often shooting in overcast and low light conditions means having to use a higher ISO to capture the image. (With a landscape, still image, you can keep the ISO lower by using a tripod and shooting with a slower shutter speed to bring in enough light for a properly-exposed image; if there is wind blowing leaves and branches, or moving wildlife, etc., then it's important to shoot with a faster shutter speed and higher ISO). With high ISO comes noise, and my preferred way of eliminating noise in an image is with Topaz DeNoise AI. Topaz just released an update to DeNoise AI -- if you're an owner of the product, be sure to download the most recent update. If you're interested in purchasing Topaz DeNoise AI (or any of Topaz's other products for photographers... I also love their Sharpen AI product), you can get yours at https://topazlabs.com/ref/564/. And be sure to use the coupon code CAPO15 at checkout for a 15% discount.

Hoping you're able to get out and enjoy the beauty of our autumn weather!